Look, something is happening with Hollywood women to the point that bitches are looking like they've been embalmed.

I've covered this territory with Keira Knightley before, but Lohan has been walking around LA like she's searching for Anubis or some shit. I'm not even sure I have the right words for this, but there is something you'll notice about most mummy faces - the skin tends to recede and shrink away from the mouth and tighten stiffly at the hollows of the cheek. Please note this fine vision of King Tut: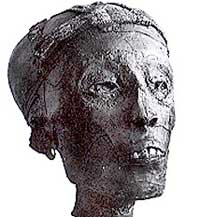 You will witness this same effect on the vodka-pickled, yet technically still breathing Lohan in that same jawline/mouth area:



Am I totally off base here?
Labels: Really?, trends that suck, wrongness, WTF